Main Content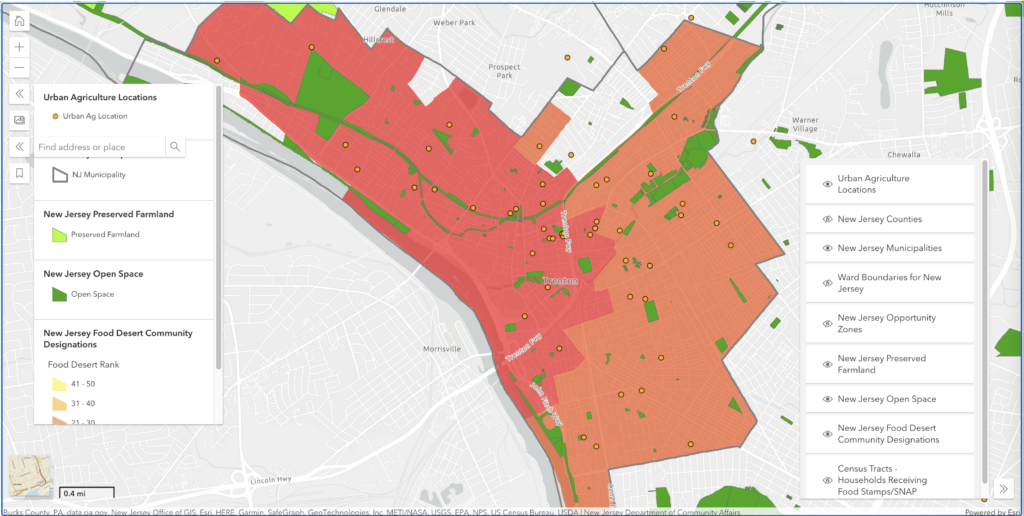 Access the interactive urban agriculture map
Welcome to the New Jersey Interactive Web Map! This tool provides information about specific locations of urban agriculture in eight focus cities–Jersey City, Newark, Elizabeth, Paterson, Trenton, Camden, Bridgeton, and Atlantic City–that are geographically dispersed across the state, demographically diverse, and represent different levels of urban density.
To better understand the context of these urban ag sites, additional data layers that show Opportunity Zones, Preserved Farmland, Preserved Open Space, NJEDA Food Deserts locations (only the 50 most severe), households receiving SNAP, and more are included. Turn these layers on and off using the eye icon next to the layer name.
Data on the urban ag sites was provided by organizations associated with them and provides a baseline for updates over time. Mapping will expand beyond the initial cohort of eight focus cities to include additional urban centers in subsequent project phases.
Map Tutorial Video
This quick tutorial shows how to use the online map interface. It covers basic navigation, how to turn layers on and off, how to understand the Legend Panel, and some convenient shortcut buttons.
Help Improve the Map
Have an idea for how to make the map even better? Send us your suggestions.