Main Content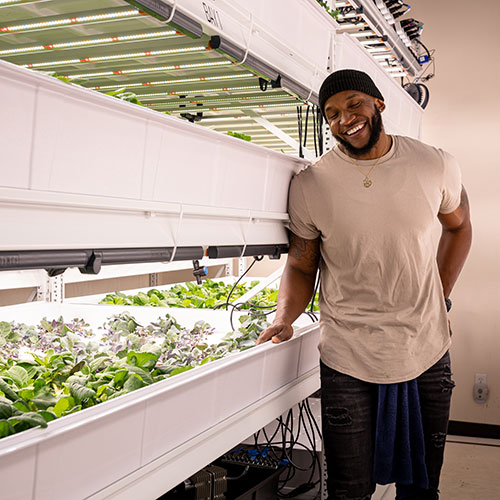 Innovation and technological advancements in controlled-environment agriculture are providing opportunities for a new and diverse generation of farmers. Desmond Hayes, CEO of GeoGreens, a new hydroponic farm start up based in Hamilton, New Jersey, has found a way to combine his passion for health, science, and sustainability through his urban farming business. Commercial opportunities in urban agriculture are proliferating in specialized areas of production like hydroponics, aquaponics, and aeroponics. Desmond's degrees in architecture, civil engineering, and environmental science inspired him to seek a career path working for environmental sustainability, but the idea of building an urban farm evolved over time.
His journey in hydroponic farming began as a hobbyist, working to build out and perfect his system late nights, early mornings, and weekends when not at his main job in construction. Soon microgreens became an obsession and the focus turned to developing a business plan. GeoGreens began as a home based business while Desmond completed mountains of research and experimented bringing creative products to market like microgreen 'shot' drinks, and juice-blend popsicles. These products helped introduce microgreens to a new audience of customers. The move to farming full-time was accelerated by the COVID-19 lockdown. Without the construction job in NYC, Desmond had more time and energy to invest in building GeoGreens.
"Like many startup companies, our initial launch was funded using personal savings, but I was confident this model would work," says Hayes. "The relationships we built with officials in Mercer County, the Small Business Administration (SBA), and especially New Jersey Economic Development Authority (NJEDA) really helped GeoGreens begin on solid ground."
Less than a year after the official launch, GeoGreens is already preparing for its first major expansion. With increased demand, more production space allows GeoGreens to move its product to more communities where fresh nutritious food is desperately needed. The company's success and emergent growth is due in large part to Desmond's commitment to building strong partnerships with markets, distributors, and institutions that carry his products, and to broaden the customer base by growing unique specialty crops as part of his offering. In addition to more common hydroponic crops like lettuces, arugula, spring mix, and a wide range of herbs, the company has an expanding niche market for hydroponic collard greens. "They are smaller and cleaner greens that what is harvested from a field grown crop," explains Hayes. "That means faster preparation and cooking time. We now have a whole new customer base who enjoy eating collards and now have access to a fast, fresh nutrient dense option instead of having to buy canned collards."
There is a strong social justice emphasis and intentionality in Desmond's vision for the company. His family helps out and works alongside him inbuilding the business. In turn, his first major opportunities came from family-owned and operated grocery stores in New Egypt, West Windsor, and Pennington. Discussions about the company's growth are never decoupled from core values of sustainability that set him on this path. Concerns about food insecurity, hunger, climate change, deforestation, and water scarcity energized the conversation about hydroponics and the possibilities. According to Hayes, "Hydroponics will not solve all of these challenges, but my goal is for GeoGreens to make a difference." Holding fast to core social values and identifying niche opportunities is how the company will continue to distinguish itself from competitors.
Putting those values into action created opportunities for GeoGreens to supply fresh produce to care homes for seniors, community food banks, and public schools in Bridgeton and Camden. The company's commitment to working with institutional purchasers, particularly those serving food insecure or food desert communities, introduced specific challenges that need to be addressed early. "We've perfected the unit economics of the business to keep costs at a level so the produce is competitively priced for institutional purchasers," explains Hayes. "Hydroponics is an expensive way to grow food, so this is a major accomplishment, particularly in the first year of operations." With firm command of the numbers, GeoGreens has been able to gradually add staff, allowing Desmond to train youth from the community, introducing a new generation to entrepreneurship and agriculture.
Desmond's energy and passion for food, health, and sustainability are unwavering. He maintains connections with the people and different local and state agencies who helped him launch. His outreach for new business is perpetual, and for those unfamiliar with hydroponics, he loves to bring prospective customers to the farm. The GeoGreens pitch is focusing buyers on the freshness and quality of the product, from harvest to the market next morning. "As a smaller producer, GeoGreens cannot compete directly with massive hydroponic operations, so I look for the right opportunity to get produce in select markets and then scale up to meet demand."
In addition to cultivating good business relationships, Desmond attributes much of his success to perseverance and patience. On the path to where he is now, Hayes says that he faced
a lot of rejection. Sometimes buyers do not understand or cannot deal directly with a local farmer". GeoGreens was able to get into public schools, hospitals and other large institutional markets through The Common Market, a non-profit wholesale distributor of products from sustainable family farms.
Desmond's advice to others with a desire to start a small business is:
There is no substitute for good planning and understanding financials. He spent seven years working, saving, learning, and planning as a home-based business before he was ready to sign a lease and quit his day job.
Do not be afraid to innovate. He was inspired by hydroponics' possibilities and wanted to do more than just lettuce. GeoGreens' herbs, specialty greens, and value-added products have established a unique market and customer base for the company
Establish and maintain good contacts with people and agencies that can help your business. Even after you are up and running, regular contact with economic development agencies, business councils, chambers of commerce, etc. means you will be notified when new opportunities emerge.
Connect with Geogreens on Facebook and Instagram, and subscribe to their YouTube channel.
Tags: Hydroponics, Starting A New Business, NJ Farmers, Farmer Advice Photos Courtesy of Geogreens